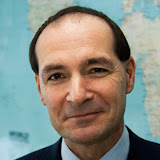 We are delighted to learn that Confinn have decided to go ahead and host their event in person later on this month! A real Live event but yet Hybrid, with some participants joining online and all speakers will be streamed to the conference platform.
Confinn are always at the forefront and never afraid to take changes. Even at the height of COVID they managed to host a safe event and deliver valuable content.
Patrick Dixon will be speaking at the event on Thursday Sept the 30th. Patrick is a futurist Keynote Speaker, Trends Analyst, author 17 books, Chairman Global Change Ltd, has been ranked one of 20 most influential business thinkers in the world.
Patrick is a high-impact, high energy, relevant keynote Speaker who always provides practical insights. He is brilliant at firing up and motivating very large audiences and also much smaller, so each and every  person feels involved.
His talks are always entertaining, provocative, memorable and inspiring, highly interactive and fast moving with the latest fresh insights on the future, strategy, leadership, growth opportunities.
We are very excited about seeing Patrick speak on the 30th of September!