HOLOGRAMS – the latest innovation in the world of KEYNOTE speaking
ORATION SPEAKERS HAS PARTNERED WITH AHRT, A HOLOGRAPHIC TECHNOLOGY COMPANY TO BRING KEYNOTE SPEAKERS TO YOUR EVENT
CONTACT US
"BEAM ME UP SCOTTY"
If you are a Star Trek fan you probably remember the catchphrase 'Beam me up, Scotty" that made its way into popular culture from the popular science fiction television series Star Trek (The Original Series). It comes from the command Captain Kirk used to give his chief engineer, Montgomery "Scotty" Scott, when he needed to be transported back to the Starship Enterprise via their teleportal.
Oration Speakers is delighted to announce that we are working with a partner who actually have a live Holographic Telepresence system allows for the capture, transmission and display of the most lifelike digital human holograms in a live two-way interaction!
Our Partnership with ARHT Media (the inventor and patent holder for the world's best HoloPresence Technology solution) allows for the capture, broadcast, and display of the most lifelike digital human holograms and provide you with new, innovative, futuristic, state of the art events! It is now possible to 'Beam' a person onto any stage in the world and display that person Live for two-way interactions with the audience.
If you are interested in hearing more please contact us at Oration Speakers and we will be happy to share more information with you about this latest technology.
VIRTUAL GLOBAL STAGE
This holographic interaction can also be stored for playback and can be integrated into AR & VR compatible devices so that the content can be delivered in a range of mediums. Most recently AHRT have launched Virtual Global Stage which has helped capture and hold the attention of the audience online, as it looks so different and more natural compared to other online streamed presentations.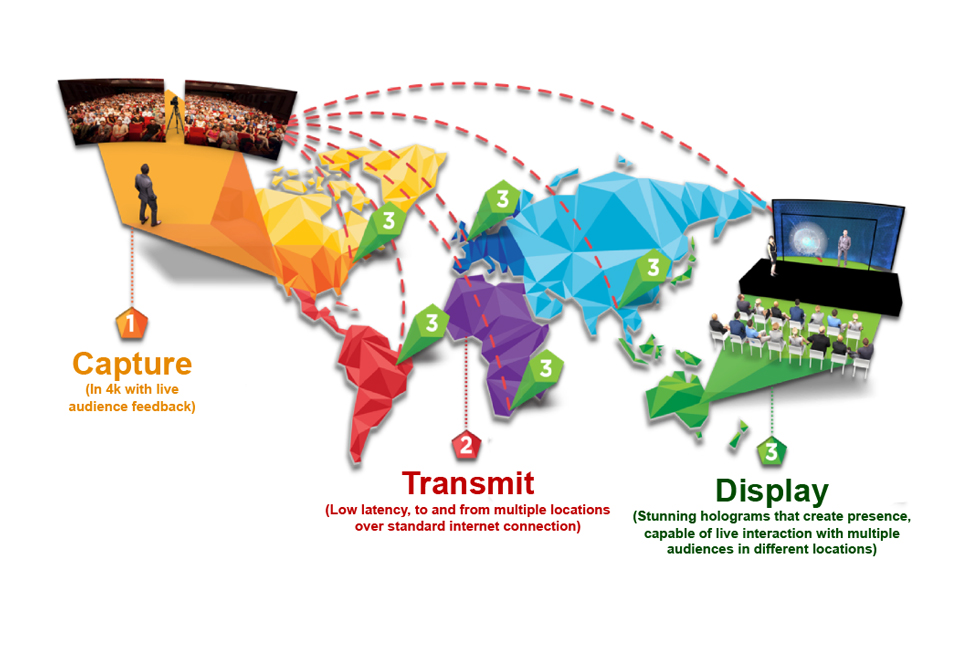 GLOBAL SPEAKERS
Much like ARHT's live Holographic Telepresence system, Virtual Global Stage is capable of delivering a more engaging experience online using the same technology that ARHT uses to beam their live holograms, looking lifelike with low latency, but now the Speaker appears in full form in 3D on any stage. This is especially important for multiple presenters who may be in different locations around the globe. The pre-recorded or live stream feed from the VGSTM can be integrated into practically all popular video conferencing and streaming applications, while delivering a more professional and compelling presentation and eliminating 'video call fatigue' caused by looking at a sea of headshots in a box. With more than 50% of communication being non-verbal it is important to see the speaker's body language in order to understand the message being conveyed.
BENEFITS

WE HELP CLIENTS OVERCOME TIME & GEOGRAPHY

WE 'WOW' END CUSTOMERS & DELIVER AN UNFORGETTABLE EXPERIENCE

WE POSTION CLIENTS AS TECH-FORWARD & FUTURISTIC

WE HELP COMPANIES SAVE MONEY & REDUCE THEIR CARBON FOOTPRINT
HOLOGRAM KEYNOTE
"I'm involved in running six companies and my ability to actually fly out to the East Coast or different parts of the world is extremely limited so what I've done is really worked with one of the most amazing studios here in Los Angeles where I can guarantee the quality of the entire experience."
– Peter Diamandis, Founder & Executive Chairman of the XPRIZE Foundation
LEARN MORE ABOUT SPEAKER
INTERESTED IN HOLOGRAM?
If interested in having your Keynote Speaker as a Hologram contact Oration Speakers
and we'll discuss the various options.
CONTACT