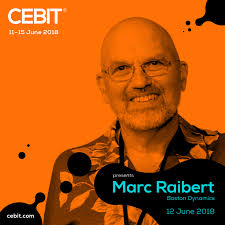 Oration Speakers was delighted to be involved in bringing Keynote Speaker Mr Marc Raibert and his SpotMini, to Hannover this week. The Boston Dynamics Founder and his robotic dog were showcasing at CEBIT, Europe's biggest festival for innovation and digitization.
There have been many videos of SpotMini, the agile four-legged robot on YouTube recently, it is one of many robots that Boston Dynamics is most famous for. Some of their other known robots are BigDog and WildCat among many more.
However, at CEBIT, this week, SpotMini was the star of the show. After a short presentation, the four-legged SpotMini came up the stairs, climbed nimbly on the stage and ran from right to left. It/she/him hopped on all fours, turned in a circle and parried. It stretched and bent, holding its head still while the rest of the robot's body moved up and down rapidly. When Raibert said "I'm thirsty" on stage, SpotMini gave his inventor a can from a table to drink with his gripping 'arm'.
Marc informed the audience that the agile four-legged robot, will go on sale next year, with plans to manufacture 1,000 annually. At the moment, there will be only commercial uses for them. Examples he gave were: – Operating in nuclear-contaminated areas, such as Fukushima and Chernobyl doing clean-up work in areas that are too contaminated for humans. As part of a parcel  delivery service (they've been trail running it in Boston for the last while, by taking it to employees homes to see whether the SpotMini can adapt to the various access ways). Raibert also believes that Boston Dynamics will be able to assist with the elderly, by providing Robot-assisted geriatric care.
​
However, we shouldn't be worried, even though robots will be more of a reality for the future, but there is a long way to go before these robots get anywhere close to mastering perception and manipulation — sight and sound.