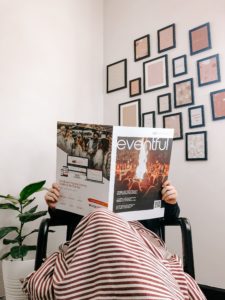 The following article is a insightful piece about the future of events through the eyes of industry professionals. This piece was written by Patricia Duchene  at Forbes and I thought it would very relevant to share here.
Whether in-person gatherings are coming back sometime soon or not, one thing is certain – virtual events have forever changed the way organizations will host and engage with their audience.
Before I dive into things, I wanted to share what Marco Giberti, co-author for the new book, Reinventing Live, had to tell me about the future of events:
"Events were built to succeed hundreds of years ago but they are built to fail in the 21st century. Post-Covid virtual events and webinars will be unrecognizable. It will be like comparing traditional TV with streaming, print magazines with tablets or music CD's with Spotify. Events will probably start online and move to offline activations to later go back online again. Communities will interact through the combination of virtual and face to face experiences in ways that will increase their return on investments and improve efficiencies. This trend will facilitate and accelerate hybrid events and a new generation of face to face event experiences."
Recently I had the pleasure to speak with three talented women in the events industry about this: Cindy Lo, Dahlia El Gazzar, and Keneisha Williams.
From our conversations, it was apparent that both planners and attendees are anxiously waiting for in-person events to come back in some form. Looking back to pre-pandemic times, most people will agree the value of face-to-face interactions was taken for granted. Now, event planners are shifting their focus to hybrid experiences – integrated virtual and in-person events.
So, that brings me to the first question I had to ask them:
Are virtual events actually here to stay?
According to Cindy Lo, they are to an extent.
"It all comes down to cost and reach. Unlike in-person conferences, with virtual events, you don't have to make higher dollar investments that may not even guarantee a good spot on the floor. However, not every event will remain fully virtual.
I believe the first market that's going to come back for in-person events are gonna be the massive trade shows – let's say I don't know what I'm shopping for but I know what industry I'm shopping for. As an attendee, I want an easy way to see and actually meet the people that can creatively match my needs. This has not translated well at all in the virtual world, and that's why I'm predicting this will be the first type of corporate event to return. The second type of event that will definitely return in person is high-end incentives. No salesperson wants to take a virtual trip."
Keneisha had a slightly different view.
"Yes. But not at the magnitude many are assuming. There will always be virtual and hybrid events — but in-person events will always reign supreme over virtual. We had to adapt to virtual because we had no choice. Humans are social creatures and we need face-to-face experiences.
Given the option, attendees are going to choose in-person as long as it's in reach. I also believe if a company has a big enough budget to host hybrid events, which ultimately includes virtual, they will. However, it won't be at the top of the list for many organizers."
How will in-person events be changed?
Regardless of how long virtual remains the primary medium for events, it's safe to say the quality of virtual experiences has drastically improved since the pandemic. However,  in-person events are certain to come back eventually — as to Keneisha's point, they have to, we as humans crave the in-person interactions.
Cindy had an interesting point as to how personal virtual events have acted as a catalyst to change all kinds of in-person events that companies will be hosting in the future.
"In-person events have always needed to evolve. Virtual events have expedited the process for both registration and attendance – all event organizers have to start thinking about what type of experience, content, and engagement they will have to account for following the shift to virtual. Gone are the days of organizations producing one annual sales summit to the next. They will have to start designing additional virtual or hybrid events to fill in the gaps and not to cater to large numbers like they used to so the content and experience is personalized for the audience."
Virtual events have indeed brought out the importance of personalized experiences, which will channel into in-person events as well.
Getting people to show up
What's the average attendance rate for virtual events that companies can expect?
According to Cindy, this depends if the event is closed or open invite.
"Events open to the public tend to be around 35%, while closed or exclusive events tend to be much higher, in many cases around 75%, especially if you had to pay. Many closed events will also offer an incentive to attend such as a gift or interactive item which makes this number go up as well."
Keneisha said the average she's seeing is anywhere between 30 and 50%.
"It depends whether the event is free or not, what the content is, who's on the panel, and who's in the audience."
To most people, 30-50% sounds low. Many of Dahlia's clients who were similarly hesitant to start hosting virtual events actually tripled or quadrupled their expected attendance, leaving them stunned.
"The idea of registration and attendees as a percentage versus the number of eyeballs you get during a conference differs. More so than anything – go back to the basics and ask why someone should choose to attend your event. What are those needs? Address them! Recruitment and networking can be a big value add for virtual events that encourage people to show up."
This led me into my next question.
What are some tricks for boosting registration and attendance rates?
To Cindy, it goes back to asking, "What's the purpose of this?" and then addressing the audience's needs in promotional messaging.
"Is the event a general marketing plan to generate leads, or is it to educate a small group of buyers to get them to the last step in a contract? Know your audience and know the threshold. If someone says they just attended their first virtual event, the concept is still being adopted for them.
As for driving attendance, you really just need to email your contacts over and over — it feels like spam but it works. Incorporating humor that ties back to your company's culture helps as well. Also, if it's not a free event, there's no reason for someone to register early. That's why it's so important to figure out the motives that will get attendees to register — gamify the registration process with a relevant contest or promote high value networking during the event. Another thing that most event organizers aren't doing post-event is personal outreach to the non-attendees to figure out why they didn't see the value in the event. This will give your planners a better idea of what to capitalize on for the next event."
Dahlia believes high registration and attendance rates are dependent on your pre-event marketing engagement.
"You need to have authentic, personal messaging and you can't be tone deaf. Highlight in your promotions how you're creating a community at the event and the benefits they will gain by joining the community — Q/A, chat rooms, collective thinking, networking, etc. Also, take advantage of your peer-to-peer marketing opportunities. Create an emotional and professional bond with your audience, especially with your first-time attendees. And give attendees, sponsors, and speakers the ability to become your marketing ambassadors."
Keneisha recommends staying true to the attendee journey.
"You've got to think before, during, and after — as much as 3-6 months down the line, think about the lasting impact your event leaves. It's more than just attending events, it's about developing a strategy based around the needs of the audience and then impacting their lives. Your attendees might be juggling their jobs while teaching their kids to learn remotely from home — consider the social climate and address these things in your event. It's all about relationship beyond the event."
What about sending event kits?
This was something that I've seen success with in the past so I had to ask the experts. Cindy is all for them, but made a good point that they don't always need to involve items.
"Event kits work incredibly well, you'll just need to get more creative because everyone is starting to do it. Most attendees already have everything they want and need — if you want their undivided attention for an hour or so, you'll have to come up with something really creative."
Cindy even discussed this one example where they created a PDF of everyone who attended and linked to their LinkedIn profile so they could easily connect with each other afterward. You had to show up to get a PDF and they used it as a tease. Event kits don't always have to be physical items, they can be anything that provides value to your attendees and incentivizes attendance.
Here's what Dahlia had to say.
"Event kits are a big thing, but again, it's all about knowing the audience! Kits are drivers of attendance, interactivity, satisfaction, vendor marketing, and are also a great sponsorship opportunity. You need to ensure the prompts / teases are clearly defined and work as well. For instance, 'Open' this bottle of champagne at 8pm or Top secret, do not open until 4pm. One of the best event kit plays I've seen was an email asking, Do you have a fur baby? Basically the recipient had the option to accept a cat or dog toy if they RSVP'd. At the event, attendees shared their fur baby pictures in the chat and it blew up. Event kits must cater to personal life. If you simply ask people to be a part of a wine tasting and they don't drink alcohol, that's a miss!"
Keneisha:
"Receiving event kits boosts the level of engagement. Even if someone doesn't attend the event and still posts what they received to social media, it helps. When companies go the extra mile, the attendees feel included and they will express their pride for the event."
Enabling sales teams at events
As a sales leader who has been selling to event attendees, I've seen it all. Here's what they had to say about best practices for enabling sales at events.
Cindy:
"One of the main problems that sales teams had before the pandemic was missing deadlines with follow-ups. I always recommend padding them. You have to make sure that your sales team understands the reason the conference was held. The easiest person to sell to at an event is an existing happy client — utilize the power of their satisfaction to upgrade their account.
Also, there's got to be a personal touch that sales reps can leverage to get buyers to that final stage. Make sure your sales team has full transparency with everything that happened at the event so they can use it to their advantage."
Dahlia:
"Many sales teams are still struggling to sell in a virtual environment. For event organizers, that means they must focus on helping the businesses they partner with on how to sell to attendees in a virtual world. Having a virtual booth isn't enough. If you are immediately selling to attendees by pushing ePDFs or one-pagers, you are doomed for failure.
Instead, segment your attendee lists and create personal follow-ups that align with the challenges you identify for each group, and in the content format they desire."
Keneisha:
"It's all about utilizing your technology and staying focused on the appealing factor of your event. Leverage all channels — personalized messages on social media, email marketing, and even follow-up Thank You notes will give your sales team a much better entry-point."
Experiences to write home about
Next I asked about any experiences these professionals had seen in the last 12 months that have blown them away.
Cindy:
"Our agency got hired by a company to plan a 100% virtual holiday party for employees. Most of them were in Texas, others out of state. They've never had a holiday party where everyone was together, and they weren't 100% sure everyone would sign-up. We decided to plan the event around the concept of  Choose Your Own Adventure — because some had families and others were single, there were different stages with various types of entertainment. Once someone got to a pod they found interesting, you could see them inviting their co-workers to join them.
This company was pleasantly surprised by how long some people stayed on. The party was 3 hrs in total and the average attendance time was 2.5+ hours. It had to have been because we had something fresh every 30 mins and also provided attendees with a choice of where to spend their time. Attendees want to be seen and be heard — create an environment that's integrated and interactive."
Dahlia:
"One event that comes to my mind was the networking event at Web Summit, and it was starring the Sangria and Secrets with Drag Taste team. In fact, it was highly ranked by the attendees and the chat lit up! You basically made and tasted Sangria with Drag Queens based in Portugal — it was fabulous.
A couple others I heard about involved a live virtual tour guide in Brazil that took you through graffiti alleys from the streets, and an actual rented llama making a Zoom debut. Whoever is doing production of these more engaging virtual events needs to be more of a producer or conductor than just an event planner. The orchestration of all involved, from speakers, talent, attendees, to sponsors, is more of an ask now than before."
Keneisha:
"The Hopin kick-off event was incredible. It was a networking mixer where you were connected to someone else in the world and spoke with them live. It had breakout networking sessions that randomly matched attendees to network. When a match appeared on-screen and you were able to connect with them and have a live conversation, you even had the option to extend the conversation and collect their contact information.
When someone is speaking to you live and in-person, your alertness goes up and the experience is more engaging."
The future of events
I think it's clear that we're all ready to start going back to an in-person society — events, workplaces, restaurants, etc. Here's what they thought about the future of events and how things will change.
Cindy:
"The golden ticket is going to be that magic hybrid model that doesn't break the bank — basically a broadcast while also having your in-person meeting integrated. However, something to account for is everyone will have a different comfort level. As long as people follow protocol and continue to get vaccinated, we should hopefully start to see corporate events returning back on the books sooner than later.As for event best practices, how data is leveraged has always been evolving. There's so much right now and we're putting it in the archives but a lot of it tells you how to plan your next event. For instance, people who registered and didn't show provides a bunch of clues. Because we are tracking everything with virtual events, we have more data than ever before, especially compared to in-person events."
Dahlia:
"I think virtual events will be mixed with future in-person events but hybrid still needs to be clearly defined. Hybrid doesn't mean you only broadcast the face-to-face content, because often that content doesn't translate well to the online audience – You need to 1) consider their online experience and 2) have exclusive content for the online audience. You also want to focus on creating FOMO, to excite your online audience to attend face-to-face for the next event. The design and creativity organizers create going forward is what I'm looking forward to.
Lastly, virtual events don't have to be the same for all audiences – you can engage multiple audiences, in multiple ways within the same event. Event design is evolving at the speed-of-light and I'm super excited about how our agency is elevating live in-person experiences with hybrid extensions since for those unable or unwilling to travel to the event."
I want to thank Cindy, Dahlia, and Keneisha for their time to provide all of these amazing insights.
After hearing what they had to say, I'm looking forward to how the future of events will incorporate elements from this temporary virtual shift.
I want to thank Patricia Duchene at Forbes for this great piece!